Registraion is now open on www.active.com
Race date is October 20, 2012.  Please watch for more details.
Trail Heads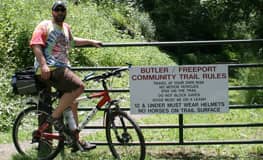 The Butler-Freeport Community Trail is about an hour northeast of the City of Pittsburgh. The 21 mile rail-trail on the corridor, open since 1989, is nestled in the scenic wooded valley that follows Little Buffalo Creek to Buffalo Creekand on to the Allegheny River at Freeport. The trail is flat and easy to ride. Heading north from Butler, you'll be on a slight incline. The trail surface moves from crushed stone to dirt to asphalt.
Find A Trail Head

»
Geocaching
Geocaching is a high-tech treasure hunting game played throughout the world by adventure seekers equipped with GPS devices. The basic idea is to locate hidden containers, called geocaches, outdoors and then share your experiences online. Geocaching is enjoyed by people from all age groups, with a strong sense of community and support for the environment.
Learn More

»
News & Events
The trail offers a safe, quiet, peaceful, green, asphalt-free place for daily walking, jogging, health-enhancing physical activity, and simply strolling. Benches or picnic tables are placed at regular intervals in scenic locations. Restroom facilities are available seasonally from May to October. During weekdays, one will find mothers with young children, groups of retired folks, and local children enjoying the trail. Evenings bring out local families.
Read More

»